Update:
Well, now April Fool's day is gone, and all pre-orders are coincidentally cancelled.
Yes, it was just a joke.
We did keep track of some stats for the choices, anyway, to see which ones were the most popular. So, if you're curious, Nostalgia Cam won by far, with 58.09% of the clicks, followed by the Frogbro Suit at exactly 25% (no, we didn't track how many clicked the "I am American" box). Equal Opportunities Mode follows at 7.35%, Doughbro Suit at 6.25% and Beer Goggles Mode at 3.31%.
Making this joke was enjoyable for us, and we hope it made you all smile too.
The pre-order website will stay online, clearly marked as a joke, without the e-mail sending part. If you didn't get the e-mail and want to see how it used to look, you can check a screenshot here.
Normal updates will resume as usual on Monday, April 11th.

——————————-

[Joke] Preorder Today And Get Free DLC!
We started taking pre-orders for Dudebro™ — My Shit Is Fucked Up So I Got to Shoot/Slice You II: It's Straight-Up Dawg Time and, to celebrate the event, we're offering for today only the chance to get, completely for free, one out of the five day-zero DLC options (future availability details not yet announced), exclusively on this website. Click the flyer below to see them in detail!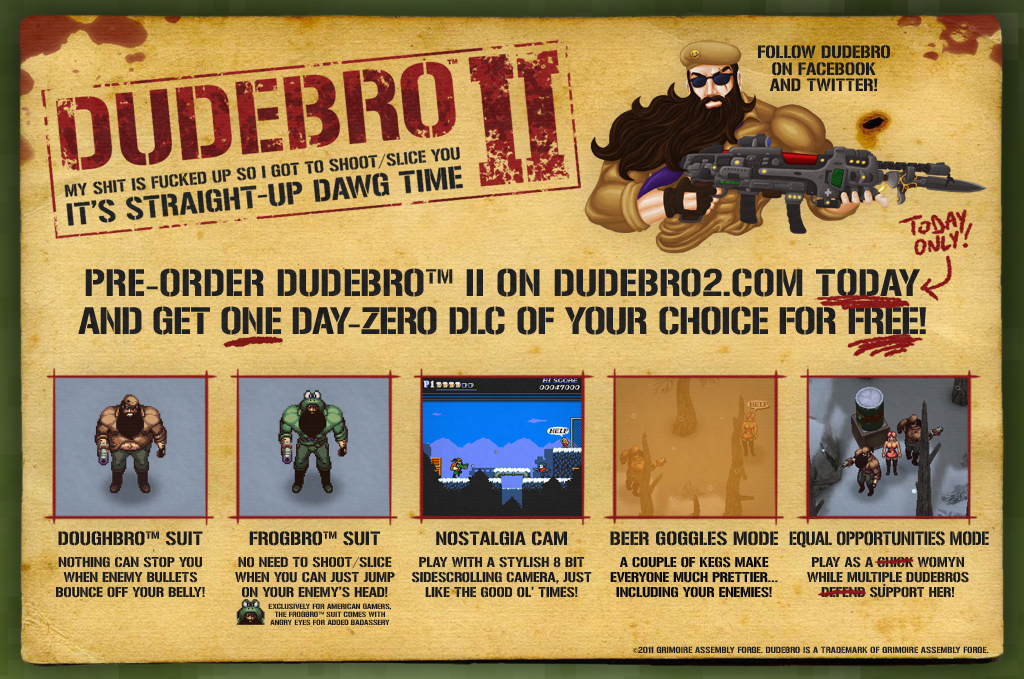 Made your choice? Ready to secure a chance to shoot/slice baddies with even more style? Then click the button below and join the over 9000 gamers who already pre-ordered Dudebro II. Dawg time starts today, straight-up!