Update:
Well, yeah. The feature list may have probably given it away, but it was all a joke. No VR announcement for the time being, and thankfully no VR mode with features closer to the dark side of a certain social network than to what we'd expect (or want) from the real thing. We dodged a bullet on that one.
Normal updates will resume as usual on Monday, April 14th.


DudeVRo II: VR Support Announced!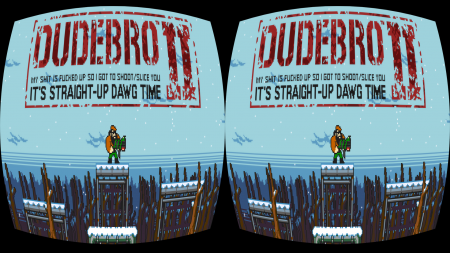 We are glad to announce that Dudebro II will be the first completely 2D game to support virtual reality headsets.
No stereoscopic 3D, no virtual theaters, no BS, final destination: a quality VR experience to immerse yourself in a world of pure brodiocity.
Exclusive features for VR Mode:

Post your achievements directly to your Timeline!
Share selfies from Mirror Mode and unlock the Ducky Face!
Repost randomly generated inspirational quotes!
Get invites and notifications from players you barely know!
Show your friends how to get wasted without leaving home!
Share your personal information with advertising agencies!
Spend a fortune playing free games!
Disclaimer: The VR experience may or may not involve one or more of the following: targeted advertising, online arguments, moral relativism, hashtags, chicken.