In the dark depths of the Internet, there exists a forum called NeoGAF. Despite — and perhaps because of — its stringent registration requirements and moderation, many consider it the quintessential gaming forum.
On December 7, 2009, member Cuyahoga started a thread titled "So I decided to rent Imagine: Babyz Fashion…"
It didn't start out so well.
After member Arpharmd B accused him of being a pedophile, Cuyahoga responded by saying, "So, I'm a pedophile because I don't want to play Dudebro, My Shit is Fucked Up So I Got to Shoot/Slice You II: It's Straight-Up Dawg Time? To throw around these sort of accusations at someone who seeks to do something different suggests quite the insecurity on your part."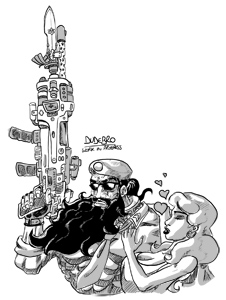 The title caught GAFfers' attentions immediately. After a bit of discussion about it and member [Nintex] mocked up a fake game cover, members Jocchan and Thetrin took the concept to the next level by doing a piece of concept art and writing an opening cutscene, respectively. Once member Mik2121 made a 3D model of the main character based on Jocchan's art, Dudebro was no longer a simple "meme." Things took off from there, with more than 100 volunteers joining to work on the project within weeks of its conception.
Dudebro II is a 2D side-scrolling shooter parodying dudebro-style games, gamers and game makers. It is a satirical commentary on the industry as a whole and its reliance on sequels and violent, action-heavy titles starring macho protagonists and overly sexualized women. The game's protagonist, John Dudebro, will be portrayed by Jon St. John, who is known for his work as the voice of Duke Nukem.*
And why is there a number two in its title? Because it's the sequel to a fictional game — after all, everyone knows that sequels are better than original IPs in the gaming industry.
*Duke Nukem is a registered trademark of Apogee Software, Ltd.