May 13th, 2013
Here's a list of some more facts you (probably) didn't know about the game:
Progress has been steady for the past few months, and the game is getting more and more polished.
After gathering some feedback, Dudebro's walking speed has been increased, making him more agile and responsive.
Remember the "significant, yet still incomplete, visual feature" supposedly not in the reveal trailer? It's fully working now, and will be revealed soon.
One of the new weapons is officially fucking awesome. Everyone loved it during playtesting. Scientists confirmed it as "made of awesomantium". There is no way around it. Wikipedia is getting updated as we speak.
Habemus Chicken's peculiar first name was chosen after a misunderstanding on NeoGAF.
The Dude Squad spelled backwards is Dauqs Edud.
The game features a number of "Brotips" etched on wooden signs. Dudebro bothers to stop and read them because of the pics of naked ladies all around the text.
Dudebro was originally going to star in a new Old Spice commercial, but shit got fucked up and he went on a mission instead.
Long before getting his scars from a kitten, General Lee used to like cats. But that wasn't considered manly enough, so he underwent surgery and now he hates them.
A post-release DLC scheme with payment in beer/junk food has been considered for more than thirty-six seconds.
Just like with the first list, some of these facts are completely false and made up on the spot. Okay, I admit it. We enjoy doing it.
As shown by this post, sequels are often more polished than the original but tend to become predictable after a while.
April 29th, 2013
Here we have some spritework for Dudebro's direct superior among the ranks of B.R.O. Alliance, General Lee. As the days are getting longer and hotter, he also made sure to bring along his Summer uniform. Check it out.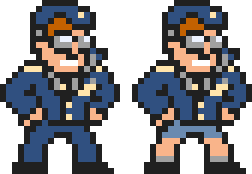 What can I say, I really like the breeze. Besides, the best thing about bathing suits is you're free-balling all the time.
— General Dawgless Lee
April 15th, 2013
Here are some more comparison shots, this time showing a dark corridor with barrels. The left screen is a render made with assets from the old 3D build, and the right screen shows how the same objects look in the current 2D version. As you can see, with the new art style we tried to keep the atmosphere as close as possible to the original, maintaining an eerie industrial feeling.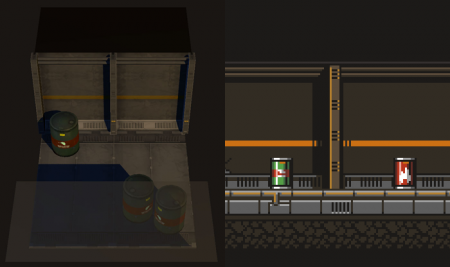 April 1st, 2013
Update: As you know, yesterday was April 1st, and we always join the tradition of posting a prank on the website. This time around, though, the joke was a bit different: the Smiling Pussy weapon is completely real, and fully working in the build! We hope you'll enjoy using it, and bring more color to the battlefield.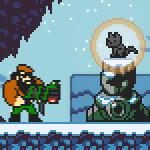 Grimoire Assembly Forge is proud to introduce John Dudebro's latest weapon, the Smiling Pussy!
As everybody loves pussy, the team was ecstatic to create one that actually shoots rainbows. Any similarities to another rainbow-trailing pussy from a few years back are just your imagination. We have seen that one long enough.
In fact, the team was so excited for this novelty, that they planned on renting out a nearby pet store and throwing a pussy party for their fellow developers. Unfortunately, it had to be cancelled as a few people raised the complaint it may be seen as "offensive" for some reason. How could something as adorable and child-friendly as pussy be considered offensive?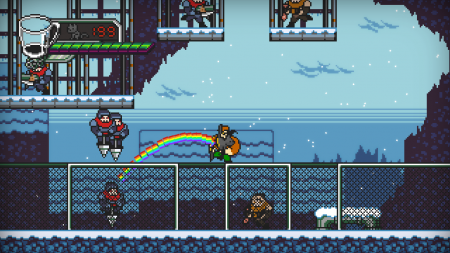 Anyway, as explained to the player once Dudebro finds it sitting on a pedestal, this lovely specimen may not be able to kill people directly, but it will certainly bring its foes to their knees. Furthermore, it's a fantastic tool when needing to get rid of obstacles. Just press the right button and that pussy will instantly move any obstruction out of the way!
We are aware some might raise concerns about using pussy as a weapon, but rest assured: no pussies were exploited or harmed in the making of this game.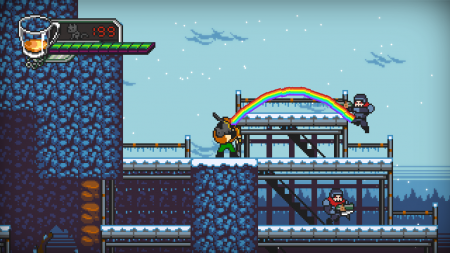 March 25th, 2013
Before the decision to turn Dudebro II into a 2D sidescroller was finalized, this animated GIF was made to show off a bunch of animations for our brodacious protagonist.
Besides the color palette, the most notable difference with the final ingame sprite is probably the slicing animation: back then, the same hand was used for the equipped weapon as well as the knife. Later on, we decided to move the latter to Dudebro's other hand, making it more reminiscent of a CQC-like stance. This change allowed us to keep both visible at the same time, giving equal weight to shooting and slicing, and making alternating between the two actions more fluid and consistent.
March 23rd, 2013
Here's another Screenshot Saturday snap, this time revealing a new enemy, the JumpPro, who seemingly loves to jump around on a pogo stick with a drill attached on the bottom. Dudebro should better watch his head when they're around!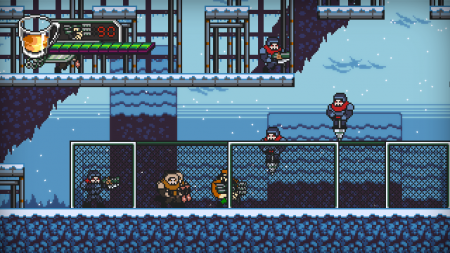 March 11th, 2013
Today's update is a neat comparison between some early concept art for the snowy fields of Alaska and the resulting pixel art background used in one of the cutscenes.
Before:

After:

February 25th, 2013
For the next few retrospective posts, we are going to show how the sidescroller build evolved over time, together with exclusive screenshots from some key revisions.
Before the decision of switching away from the 3D top down shooter was finalized, our pixel artists Jocchan and EarthPainting worked on a mock up to conceptualize what a 2D sidescrolling incarnation of the game would have looked like. They eventually came up with the picture below.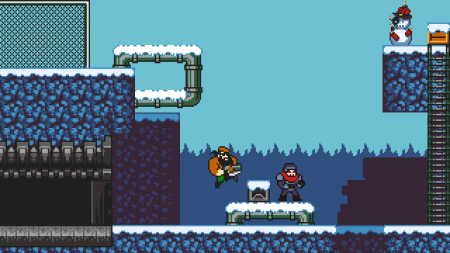 The team responded very positively. At first, there was some skepticism about choosing an 8 bit art style, considering how overused it had seemingly become for indie games as of late. The doubts were quickly dispelled once it became apparent how such a style would not only speed up the production of assets, but still allow the game to stand out on its own if complemented by modern effects. Once the decision of going ahead was taken, development could finally start.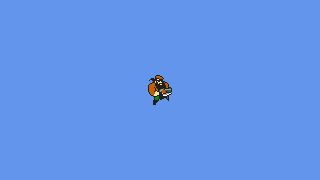 The very first revision of Dudebro II reborn only featured a static sprite of Dudebro jumping in the middle of a 320×180px screen with a uniform XNA cornflower blue background. It was our very own Hello World, just 120% more badass.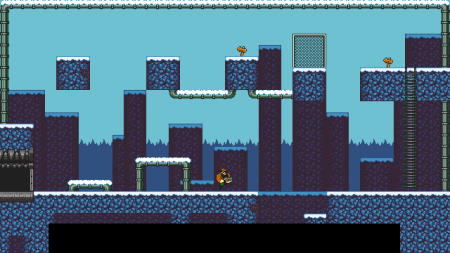 By revision 16, the screen resolution was upgraded to 640×360. We already had Farseer Physics integration and TMX map loading, but the latter had no colliders yet (even though it may look otherwise in the picture above). We only had one large black platform near the bottom of the screen to prevent Dudebro from falling into eternal nothingness. Speaking of Dudebro, back then he could only walk and jump, with character physics slightly impractical for a game meant to become heavy on platforming. His sprite wasn't even animated yet.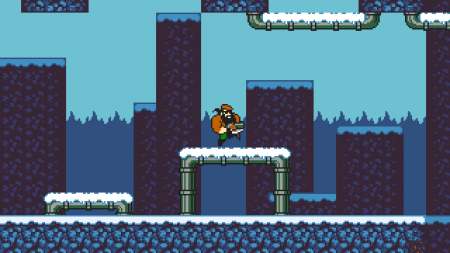 Fast forward to revision 32, and the test map finally has its own colliders for Dudebro to stand on. The picture is zoomed in by a factor of two to display the sprites more clearly. A working camera can already follow the player everywhere. Dudebro can now shoot placeholder fireballs, and his character physics has improved greatly thanks to a new approach intended to bypass some of the quirks caused by using a realistic physics engine. Still, it's not really as tight as we need: jumps are way too floaty and character movement just doesn't feel right yet. It was apparent we had a lot of room for improvement.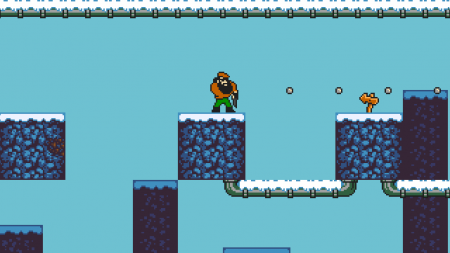 In revision 46, Dudebro is finally animated correctly… but one of his arms is missing. That is because the arm is actually a separate sprite, to allow for multidirectional shooting, and that one was not displayed yet. So, our star had to settle for shooting bullets from his beard. Which was actually kinda cool. The screen resolution also received another bump, with the addition of multipliers that allowed for clean looking action all the way up to 1080p (1920×1080).
Dudebro wouldn't remain armless for very long. In fact, a few revisions later he would receive a muscular and fully functional arm to hold his guns with, but we'll get to that in a later update.
February 16th, 2013
Starting today, which marks week 120 of the initiative, Dudebro II is going to join Screenshot Saturdays. New screenshots will be posted on Saturdays on the official Twitter account @TheRealDudebro once in a while. As it won't have a regular schedule, it won't interfere too much with the game's development and (hopefully) also keep a slight element of surprise. Now, without further ado, please let us introduce our first Screenshot Saturday Screenshot. Enjoy!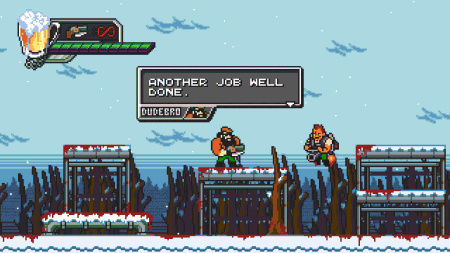 February 11th, 2013
It's that time of the year again, so here's a Valentine's Day card for all you brovers out there. May the feeling spread across the battlefield and prove, once and for all, that making love and making war aren't necessarily mutually exclusive.